Specialised Dementia and Alzheimer's Care
Livewell Estates offers long-term and short-term dementia and Alzheimer's care at our specialised memory care facilities in Somerset West and Bryanston, South Africa. Our Estates also offer short-term dementia respite care, which provides temporary caregiving relief for caregivers.
With an all-inclusive offering, our residents can enjoy expert health care, nutritious meals, personalised care and medication management and luxurious surrounding.
Our stimulating activities program ensures a cognitive-focused lifestyle by actively engaging with the individual needs of our residents and addressing their unique requirements.
Long-term permanent residency
Short-term respite care options
3 nutritious meals, including snacks
Personalised care and medication management
24/7 nursing care
Occupational therapy
Ongoing Care Plan (assessments and evaluations)
Stimulating activities program
Unlimited housekeeping and laundry services
Access to communal gardens, dining and living area
Pet-friendly
24/7 security

Specialised Dementia Care
At Livewell, we pride ourselves on providing specialised dementia and Alzheimer's care services to our memory care residents. Our multidisciplinary healthcare team range from our own nursing team to our specialised support network of healthcare professionals such as nutritionists, occupational therapists, physiotherapists, physicians, psychologists, social workers and more.

Respite Care
An opportunity to join us as day or short-term visitors and to participate in our holistic and rewarding activity programmes within a safe and serene environment – all with the care of our dedicated, professional staff. The short team respite care has been designed to enable caregivers to take a break from their responsibilities for a few days, or an extended period.
Livewell with Luxury Suites
Nestled within the tranquil environment of our gardens, are our superbly appointed memory care suites. These suites have been designed to accommodate the luxurious comfort our residents have been accustomed to throughout their lives. Here, our residents can remain independent for longer and can maintain a sense of choice and control over their lives whilst receiving professional dementia and Alzheimer's care.

Livewell

Bryanston

 Estate
Our dedicated dementia and Alzheimer's care facility in Gauteng is a beautiful lodge-like residence set within manicured lawns and large trees. It's located in a safe and secure environment in a quiet residential nook in Bryanston.

Livewell 
Somerset West Estate
Our dedicated dementia and Alzheimer's care facility in Western Cape is a beautiful residence set in large secure tree-lined grounds in a quiet cul-de-sac close to the center of Somerset West.
Since its inception in 2011, Livewell Estates have been at the forefront of dementia and Alzheimer's care in South Africa. As dementia care thought leaders in South Africa, we are motivated by a passionate, deeply personal desire to continually innovate and advance the standard of care available for those afflicted with this widely misunderstood disease.
Living well with highly personalised, dignified care is at the centre of everything we strive for at our two immaculate estates in Somerset West and Bryanston. Our continual evolution and effort is encouraged by an ever-increasing need for our unique approach to specialised dementia care and our support for families while always striving to remain South Africa's most progressive tailored dementia care facility.
Quite simply there is nothing else like Livewell. Its unique offering and intense care for the elderly is based around the people who make it so special, and they are who we want to introduce you to, as they will be part of your family when you join us at Livewell. The specialised memory care facility in South Africa.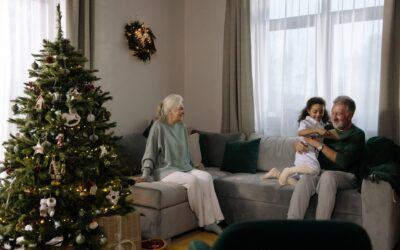 As the festive season unfolds, everyone tries to create a magical atmosphere that brings families and friends...
read more